The Festival

Rock the Ocean's Tortuga Music Festival
Tortuga Music Festival is more than their music.
The unique multi-genre music festival was founded on a desire to push ocean conservation forward. In partnership with marine conservation foundation Rock the Ocean, Tortuga Music Festival has raised over $3 Million for 60+ partners in ocean conservation and research. The festival itself takes place over a 3-day period on the pristine beaches of Fort Lauderdale and is celebrating its 10th anniversary in 2023
The Challenge
Creating a 5-year rolling strategy to build up presence and sales of Tortuga 2022, 2023 and beyond following a 2-year interruption.
With its two previous festivals being hampered by COVID-19 restrictions, Tortuga Music Festival's coordination team was driven to bring Tortuga 2022 back with a splash, while doubling down on infrastructure that could amplify their efforts year-over-year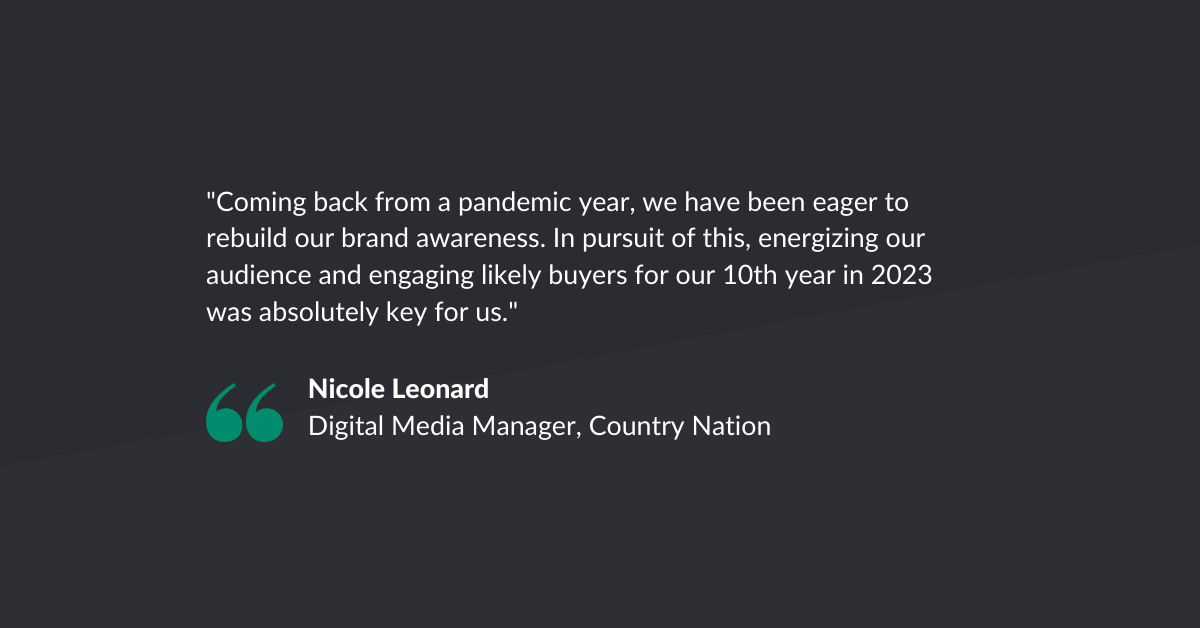 Knowing the changing landscape and increasing restraints on data-sharing and targeted ads, the objectives for Tortuga 2022 were three-fold:
To build up an owned database of fans using

first-party data

that they could tap into for their multi-year strategy
To sell out their festival (including high-value tickets) within the 4-month turn-around time between Tortuga 2021 & 2022.
To amplify Tortuga 2023 by getting fans to talk about the next festival, early.
How Tradable Bits Helped
Engaging prospecting campaigns built to get insights from Tortuga's best fans
With their objective to consecutively grow their festival, Tortuga's team of coordinators realized early that their key to growth was through fan data.
Using Tradable Bits' platform of 40+ turn-key campaigns built to collect and harness first-party data, Tortuga's team ran a variety of contests, campaigns and RSVP forms to collect key qualifying information about their fans. These campaigns served as prospecting tools and also a way to drill down on intelligence from their major target market. For example, the team ran a contest for 2 free tickets to Tortuga 2022. The campaign ran for only 5 days but gathered thousands of views, 71% of which were new faces - faces that they can now target more accurately.
A centralized and connected audience intelligence platform
The Tradable Bits platform made it easy to transform all fan data collected into insights that would drive their segmentation of ad audiences. Through the Tradable Bits FanCRM, Tortuga's team enhanced historical ticketing & audience data with their first-party intelligence and centralized all fan profiles in one place - all to create highly responsive audience segments. Using these custom audiences, the festival could effectively hyper-target fans and sell out within 4 months.
Ads strategy consultants around big announce pushes and ad optimization
In close collaboration with the Tradable Bits' ad team, Tortuga was able to construct a diverse ads strategy to kick off their 2022 promotion. The Tradable Bits' ads team laid out an announcement strategy that would push heavily directly after Tortuga 2021 was still taking place, to take advantage of the infectious energy coming out of the festival. Tortuga's promoters pushed a massive portion of the overall budget behind the announcement, creating a sense of urgency for fans that spurred them to purchase tickets early. This early traffic resulted in better seed audiences and highly engaged leads.
This strategy resulted in a sold-out festival for 2022, despite only a 4-month turnaround between Tortuga 2021 & 2022.
Results
With Tradable Bits, Tortuga was able to sell out their 2022 festival [their biggest festival year on record] using tools to supplement the quality of their audiences, with expertise around how to hit these audiences. More than selling out their 2022 year, Tradable Bits' ads team helped the Tortuga team lay the foundation for selling out 2023 and beyond.


With the help of Tradable Bits' prospecting tools, Tortuga achieved a 2022 audience made up of

50% new ticket buyers.

Not only was Tortuga able to sell out their 2022 festival, but they set themselves up to expand year over year by finding new fans.