The Partner: True North Sports & Entertainment
True North Sports & Entertainment is Manitoba's premier sports and entertainment company. They own and operate Canada Life Center, the Winnipeg Jets (NHL), the Manitoba Moose (AHL), the hockey for all centre, and Burton Cummings Theatre ("The Burt").
True North's Digital Strategy team is responsible for the development and implementation of digital media initiatives across their brands, properties and portfolios. Drew Wilkinson, the Director of Digital Strategy and Products at TNSE was searching for a way to build 1:1 connections with fans that were coordinated across properties, without working 12 hours a day, 6 days a week. Tradable Bits' Engagement Center and FanCRM were the perfect solutions.
The Engagement Center has helped the Digital Strategy team multiply the number of new leads feeding into their database, resulting in a 32% increase in new fans year over year. The FanCRM let them immediately execute comms against these new fans with quick audiences.
With a workflow that is templated and systemized for their season, TNSE is reaping the benefits of smart, centralized fan data.
The Challenge: How do we fill seats year-over-year, regardless of team performance?
It's every sports marketing team's dilemma - how do you keep filling seats and driving revenue in spite of a bad season?
Since the Jets returned to the hockey-hungry city of Winnipeg in 2011, the team's been blessed with full stands no matter how good or bad their season. From early years in the bottom of the league to making deep playoff pushes, the fanbase has stayed true(North…sorry) through it all. However, as they enter their second decade back in Winnipeg, the team is looking for ways to ensure they continue that trend.
Drew knows full well the good times can't last forever. But in order to prioritize building a foundation for the future while the present looks sunny, Drew and his Digital Strategy team needed a sophisticated and efficient solution.
The ultimate goal for Drew and his team was to create a sustainable pipeline of Sales Qualified Leads (SQLs) to continue building their fanbase, while also gathering information to understand fan preferences and potential purchasing trends. This would allow them to craft their messaging and sales tactics as they targeted new audiences, all centralized within one platform. That's where Tradable Bits comes in.


The Solution: Diversified Collection Strategies mean an Enriched Data Pool.
Simply put, more data streams centralized in one place = an enriched pool of data. To create meaningful data collection solutions, the team at TNSE required a multilevel solution. The solution was three-fold: Automation, Engagement, and Digital Ads Strategy. So let's break it down:
Automated Data-Capture with Smart Integrations
Using Tradable Bits, TNSE is automatically enriching their data through direct integrations with Shopify and Ticketmaster. Whether they're purchasing merch, game tickets or concert tickets, these built-in integrations allow TNSE to centralize all fan purchases, to build in-depth single fan profiles.
What does a single fan profile help them do? By connecting each fan's actions on a variety of platforms, TNSE is able to see full-picture trends that were previously hidden. As a large organization that manages multiple properties & event types, this enrichment of data allows them to track common fan preferences and crossovers. Meaning, they're now able to segment and hyper-target audiences that love hockey and are active locally, but haven't visited one of their entertainment events & vice-versa.
In other words, they're uncovering high-value audiences and more opportunities to drive sales.
Engagement Center with 40+ Campaigns for Zero-Party Capture
Tradable Bits is home to 40+ out-of-the-box engagement campaigns, all of which are fully customizable and easily skinnable for any team/sponsor.
In their 2022-23 season, TNSE used an embedded Tradable Bits entry form as a permanent feature on their ticketing page. This entry form listed a set of detailed questions targeted at understanding fans' season ticket preferences, and was connected to automated emails that would send to the Jets ticketing team upon completion. These real-time emails and detailed preferences allowed the Ticketing team to personalize their pitch when they went on to reach that fan directly. In this case, simplicity sold.
The Jets saw a 9% conversion rate for full-season ticket packages on the back of this automated entry form, and a 50% general purchasing rate (i.e. 50% of entrants went on to make some type of purchase). Their digital strategy team did an incredible job setting up a "set and accelerate" workflow that not only enriched their database for future communication but raised their overall revenue with targeted conversions.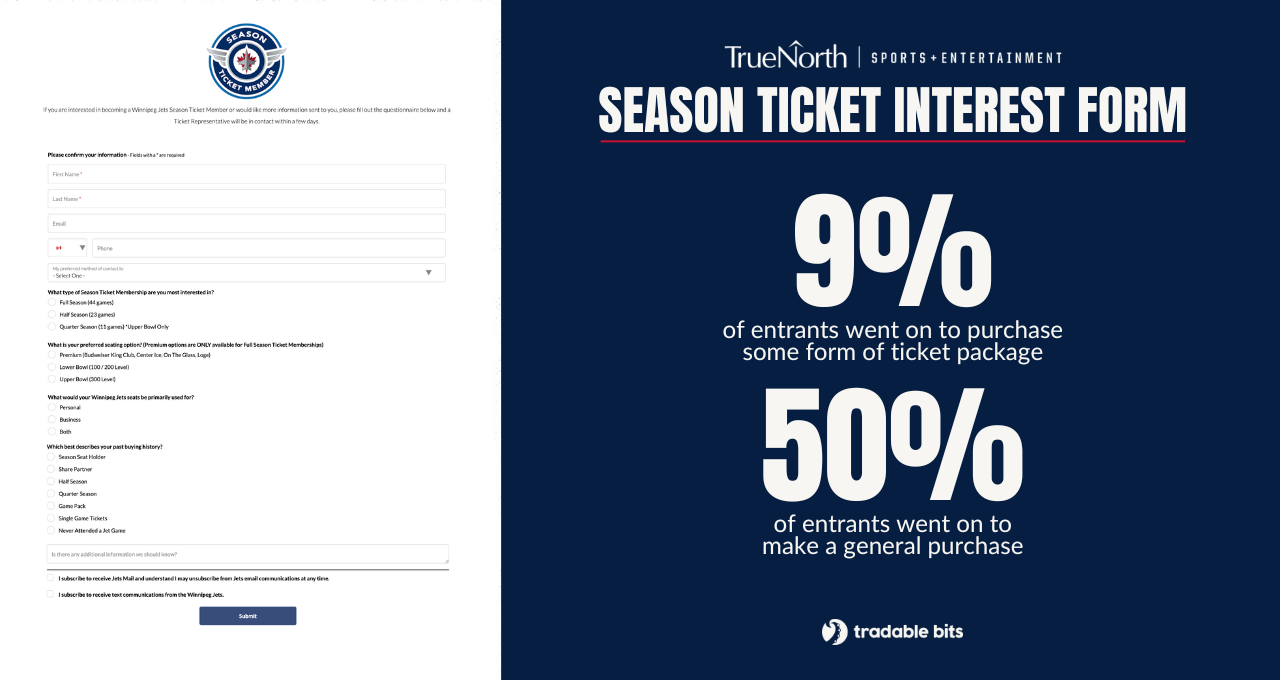 Dedicated Ads Specialist
Tradable Bits is more than a platform. All of our partners have access to a dedicated team that works in tandem to uncover best-practice strategies around first/zero-party data, digital ads, and smart, reactive audiences.
From the beginning of their partnership with Tradable Bits, the TNSE team has worked closely with Ads and Customer Success specialists for North American Sports. This includes bi-weekly meetings to discuss strategies, goals and how both teams are tracking against them.
For example: Over the holidays TNSE's digital strategy team wanted to target old fans who might be returning home to Winnipeg. They then leaned on their Tradable Bits Ads Specialist to create the perfect audience to do this (purchased within 5 years, excluding Winnipeg based fans based on location, etc.) and then pushed this custom audience through to Meta.
This "Home for the Holidays" campaign saw strong returns. From mid-November to the end of December, the campaign pulled in 45X ROI. The ability to lean on a team to create flexible and timely audiences and ad strategies can't be understated.
Overall, since March 31st of last year, TNSE has been able to push 555 ads over 29 campaigns with the help of the Tradable Bits ads planner.
The Results:
Total CRM increase from June 14, 2022-March 31, 2023: 32%
Total Ads Run from March 31, 2022-March 31, 2023: 555 Ads | 29 Campaigns
Total ROI on ad spend (Winnipeg Jets): 7.6x
Season Ticket Interest Form:
ROI for fans who went on to purchase some form of ticket package: 9x
Fans who entered and went on to make a general purchase: 50%
To recap:
An automated workflow with integrations like Shopify and Ticketmaster allowed the team at TNSE to enrich their growing database. Our suite of 40+ digital activations gave them the tools to engage with fans and collect Zero-party data for their sales team to target leads more strategically. The digital ads calendar empowered TNSE to run more ads to more direct audiences more effectively using the quick audiences they made based on everything they've learnt about their fans. With that, they've made major steps to continue selling out their venues for years to come.