What 1 week of a Tradable Bits campaign can do for your Partner Relationships.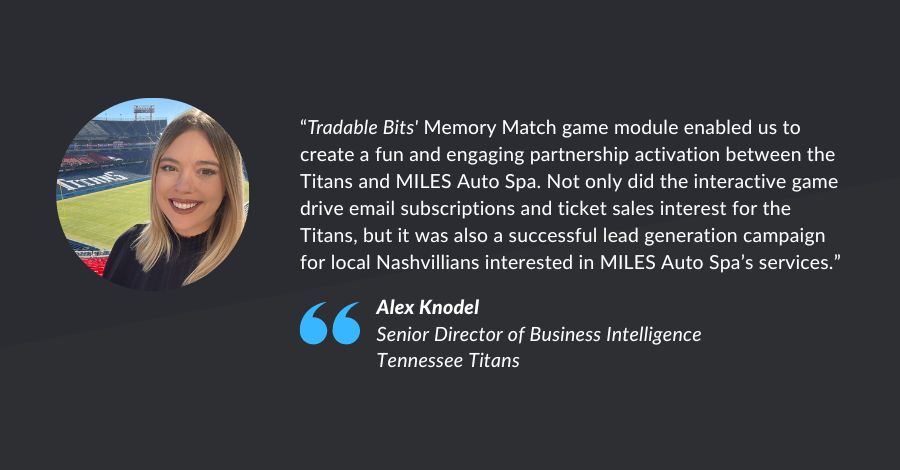 The Team
Tennessee Titans
Headquartered in Nashville, Tennessee, the Titans are part of the NFL's AFC South Division and began playing at Nissan Stadium in 1999. Founded as the Houston Oilers in 1960, the team moved to Tennessee in 1997. The Titans' corporate office is located at its practice facility, Ascension Saint Thomas Sports Park. For more information, visit www.TennesseeTitans.com.


The Commercial Partner
MILES Auto Spa
MILES Auto Spa, the first luxury detailing center and car wash to open in the Middle Tennessee area, launched in 2007 in Cool Springs. Differentiating itself from other car washes by offering a luxurious lobby, flat panel TV's, a WiFi bar, leather seating and a coffee bar, this car wash was designed to turn the perceived industry experience on its ear.


Goal
To go beyond partnership expectations for MILES Auto Spa with an experience driven digital activation.

To increase email subscribers for both MILES Auto Spa, and the Tennessee Titans.

To collect & pass on sales-qualified leads to the Tennessee Titans ticketing team


The Challenge:
The Tennessee Titans were challenged to provide a competitive and engaging digital activation that fit seamlessly with their ongoing partnership initiatives for MILES Auto Spa.

Beyond the fan experience within the activation itself, the Titans were also challenged to provide something extra to MILES Auto Spa. They decided on growing opt-ins directly to MILES Auto Spa and providing intelligence on which subset of their fans were most likely to engage with the sponsor as marketing qualified leads.


How Tradable Bits Helped:
Not just another sweepstakes:
For a partner that has "elevated experience" as part of their brand identity, the Titans did not just want to do the standard "enter to win" - they needed a way to get their fans involved. Memory Match was the perfect gamified solution for their fans and sponsor.
How they set up their "Play for Unlimited Car Washes for a Year" Memory Match:
Using an out-of-the-box Memory Match template, the Titans and MILES Auto Spa created a special initiative for Titans fans - flip for the fastest time, and win unlimited car washes for the year. As with any Tradable Bits campaign, Memory Match was easily skinnable, and the Titans custom designed the flippable cards to be MILES Auto Spa x Tennessee Titans branded. In as little as 30 mins, they had a living, breathing digital experience for fans to take part in.
Here's a look at what they created:
Zero & First-Party Data Collection + Opt-ins for Email Subscribers:
Beyond the fan-experience itself, the Titans were lookingfor a way to "level-up" their partnership. They decided on providing MILES Auto Spa with a targeted list of marketing qualified leads and email marketing opt-ins.
Using Tradable Bits' form fields and custom fields, the Titans were able to understand:
Where fans were located (and proximity to the nearest MILES Auto Spa center) and,
The age range of fans participating (are they in an age-group that prefers luxury detailing?)
They were also able to get:
Explicit fan opt-ins to receive marketing communication from Miles Auto Spa
SMS Opt-ins for the team
Email opt-ins for the Titans newsletter
Email and SMS information (direct lines to fans).
And, because the opt-in to marketing communication from Miles Auto Spa was not required and explicit, the 1000+ fans who ended up subscribing are high-quality in the sense that they have expressed interest in the sponsor.


Ticketing Interests:
As part of their ongoing digital strategy, the Titans were also able to tag on "ticketing interest" as a cherry on-top for the team itself. Again, with a simple Tradable Bits' custom field, the team was able to ask all participants whether they were "interested in 2022 Titans Tickets." Every fan that answered "yes," was then sent through to the Titan's Ticketing team, automating the way that their Partnerships, Fan Engagement and Marketing teams deliver prospects forward.


Big Results: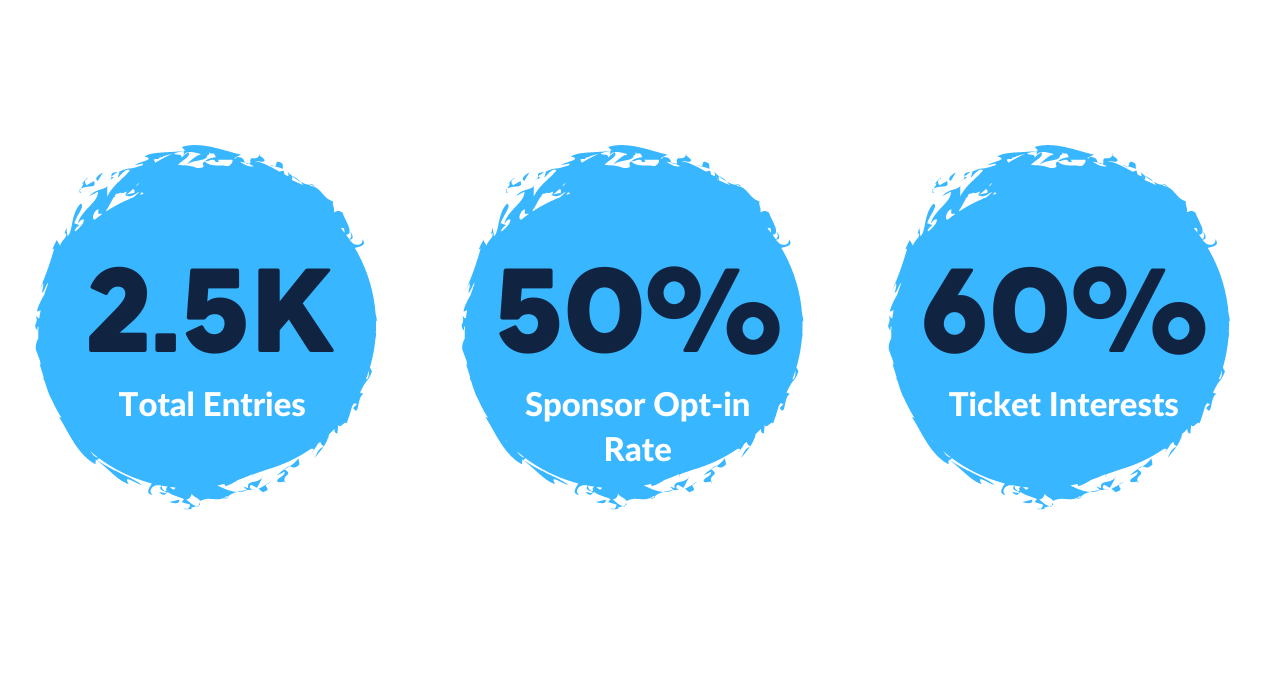 The campaign saw 2557 total entries, with about 50% of fans subscribing to MILES Auto Spa for further communication. In addition to these explicit opt-ins, the zero-party data collected gives the Titans Partnership team a good idea of where fans who were interested in the promotion live, as well as their general demographics - valuable information to share with MILES Auto Spa as a super-service.
For the Tennessee Titans themselves, this campaign uncovered that just over 60% of entrants had interest in 2022 Titans Tickets. These fans can now be tagged as marketing qualified leads, and sent over to the Ticketing Team for retargeting/re-engagement.
The biggest win, beyond the stats, was the level of interaction fans had in this partnership activation. Competing head to head for the fastest time, fans who participated are sure to have better recall of MILES Auto Spa as a sponsor and positive affiliation. And, it took just a tad longer to pull together than an entry form sweepstakes.
Want to learn how to activate sponsors in a way that drives fresh results?
Book a 1:1 demo with us, and we'll show you how to optimize partnership activations with the Tradable Bits Platform, and your fan data.