As virtual live performances/concerts/music events grow in popularity, music fans are getting new immersive experiences with the artists and performers that they love. This new deeper integration and interactive mix between online music performances and video games has effectively turned the traditional music fan experience on its head. Technology such as Virtual Reality and Augmented Reality has unlocked the potential, paving the path for successful in-game collaborations between music artists and video game franchises. You don't have to look any further than the recent Travis Scott and Fortnite collab to see that the gaming industry has changed the music industry forever.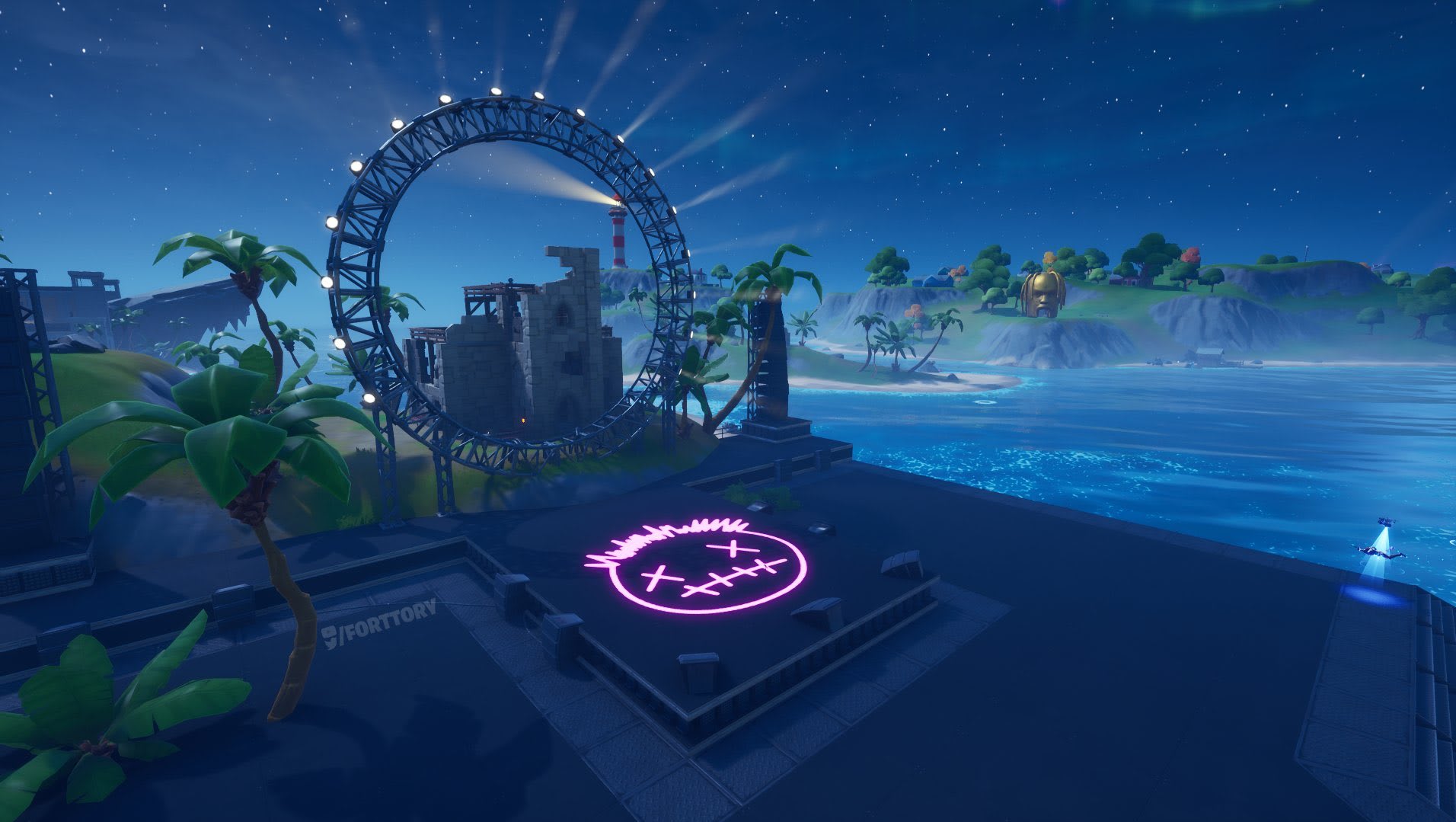 Known as one of the largest games ever with over 350 million players worldwide, the multiplayer game Fortnite continues to amaze fans with its live events, as each new event gets more elaborate than the last. In 2019, popular DJ artist Marshmello performed a live concert on Fortnite. The single showtime drew more than 10 million fans. In April 2020, Fortnite took its live events to another level when they teamed up with Grammy-nominated rapper Travis Scott for a live in-game concert event Fortnite and Travis Scott Present: Astronomical. The live concert event occurred over three days with five showtimes, maximizing fan reach. Travis Scott took fans on a musical journey in Fortnite and premiered a new song during his concert, using the concert as an opportunity to promote his new music.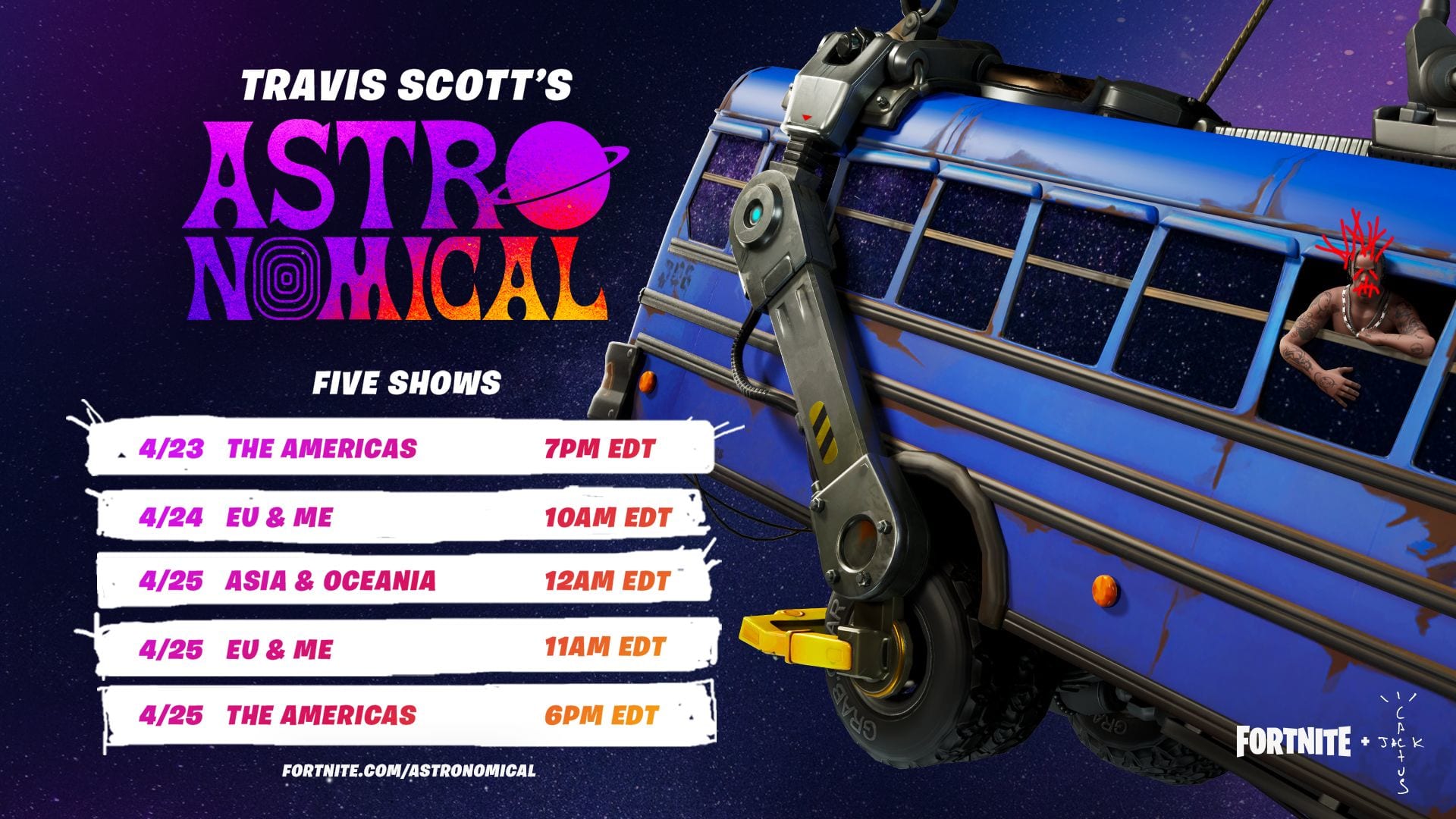 Over 27.7 million unique players attended the three-day concert event and players participated more than 45.8 million times over the five showtimes. A whopping 12.3 million fans attended the first showtime alone, a new record for Fortnite. The concert was the ultimate 10-minute immersive experience where players could use the Travis Scott headbang and rage (which featured a fiery microphone stand) Fortnite emotes while jumping and teleporting around a massive Travis Scott that stomped along the Fortnite island. The elaborate psychedelic graphics paired well with the upbeat music. Fans tuning in through their consoles could feel their joysticks move and vibrate along to the bass. The game took players above water, underwater, and up to space. Epic Games created a must-see experience, an intersection of esports, music, and digital entertainment.
Check out the full Travis Scott performance in the video below:
Astronomical Opportunities
The cosmic success of the Travis Scott concert indicates there are many opportunities to engage and reach music fans through video games like Fortnite, ultimately helping create unmatched fan experiences.
Music Streams
Virtual concerts are proving how they can significantly boost music streams. Since Travis Scott's in-game Fortnite concert, he's been blowing up on music streaming platforms like Spotify, Apple Music, and Pandora. After the first showtime, his songs racked up 24.4 million U.S. on-demand streams, with a 38% boost. On Pandora, streams of Travis Scott's music went up by 124%, and he became the second most followed artist, jumping 163 spots.
Merch
Not only is it a great way to get new music in front of fans, but selling virtual merchandise is also one of the many ways this channel is showing its value. Not only did Fortnite offer free Travis Scott in-game items, but days before the concert event, Fortnite's in-game item shop began to sell Travis Scott themed skins, tools and bundles. The cost for both the Astronomical Bundle and the Astronomical Gear Set was $33.30. That's an incredible opportunity. It means that if just 10% of the initial 12.3 million audience members converted and purchased a Travis Scott skin, they'd be pulling in nearly $18.5 million in gross revenues.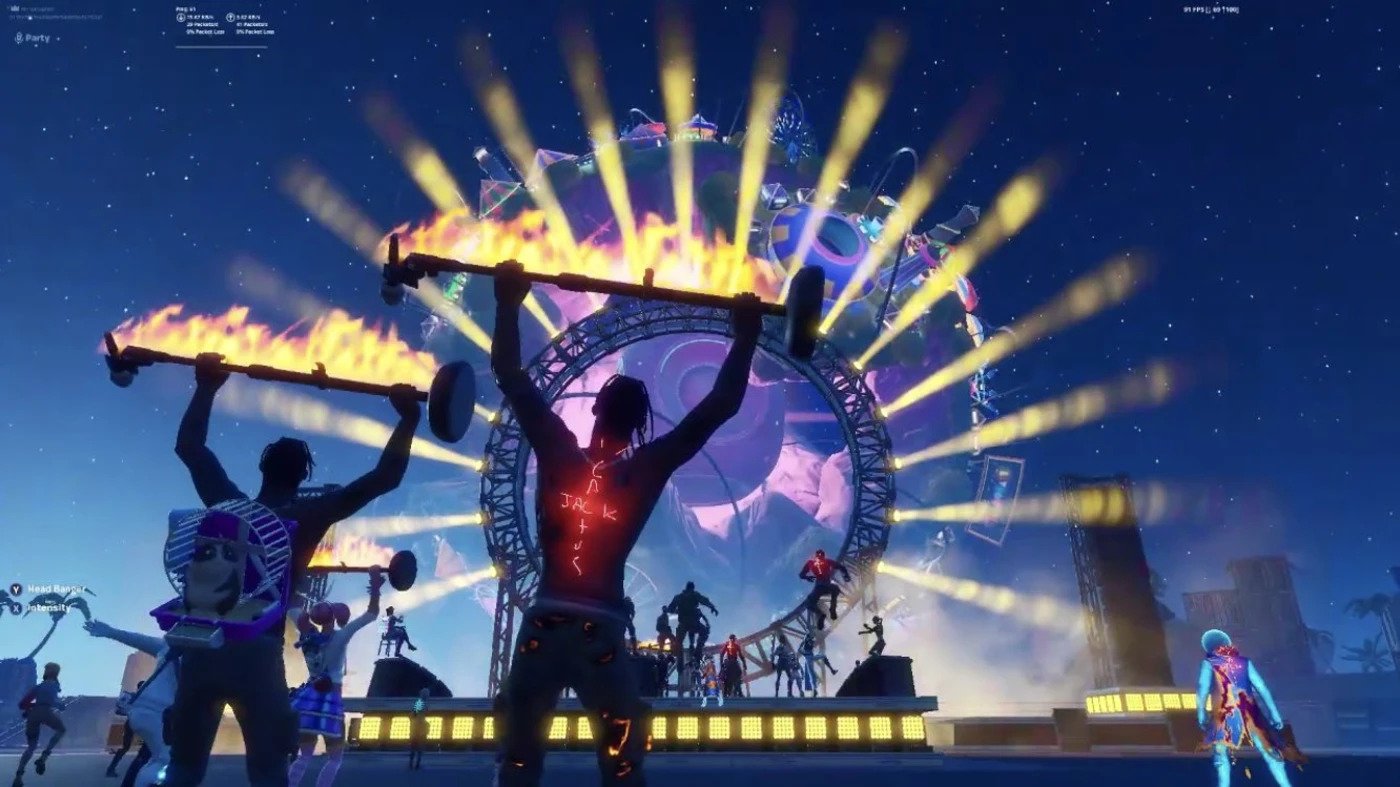 Non-Violent Virtual Spaces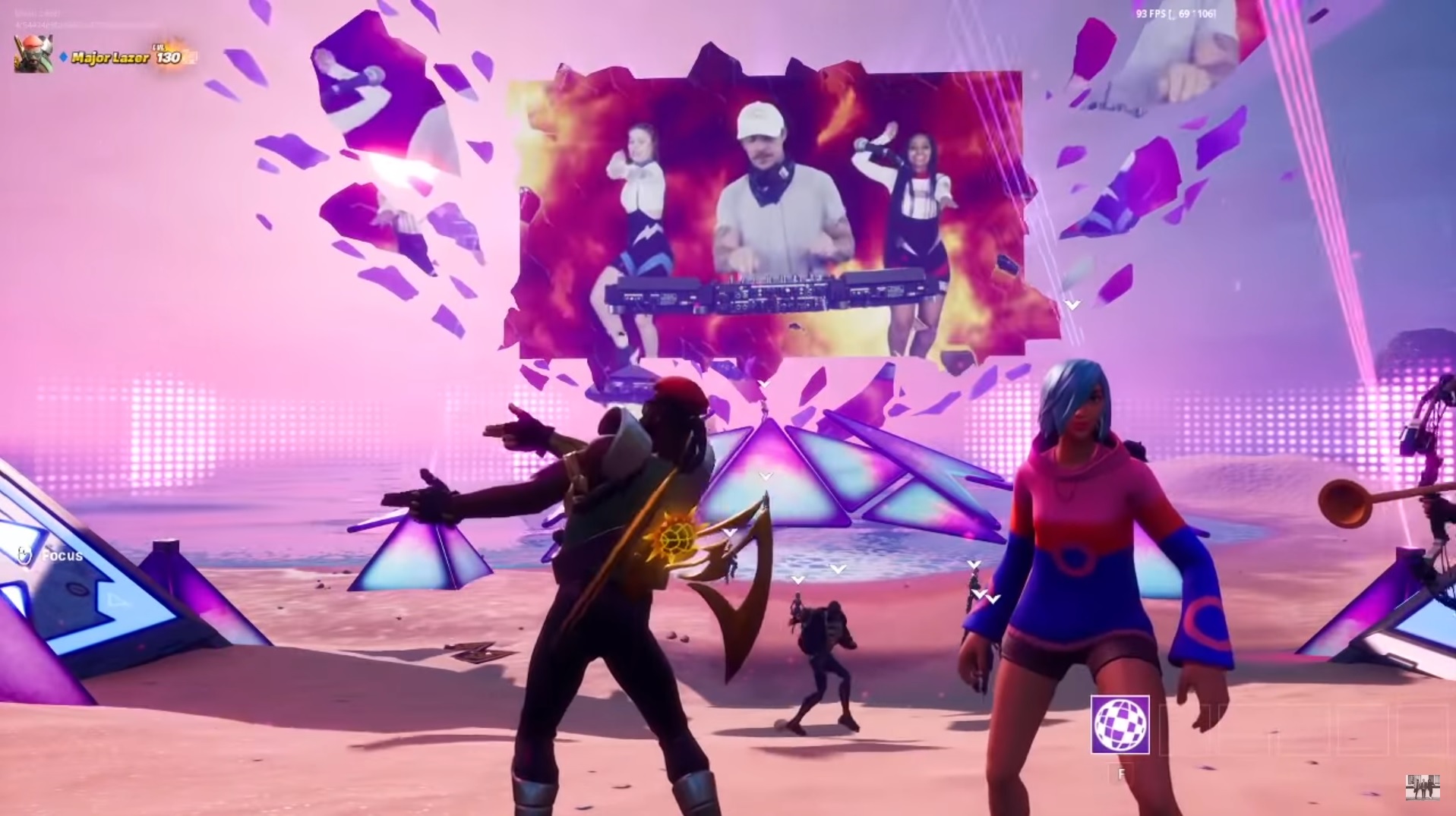 Fortnite is creating new spaces and opportunities for virtual hangouts and concerts, changing the way the music industry engages fans and is intersecting gaming and music. Fortnite introduced its brand new Party Royale game mode shortly after the Travis Scott concert event. Party Royale is a non-violent version of Fortnite, meant to be a laidback environment where players can hang out and socialize with their friends, free of weapons and building, making it the perfect place to host virtual concerts.
DJ and EDM producer Diplo was the first musician to perform a live concert in Party Royale mode. Diplo performed a Major Lazer set for fans on May 1st. It was a relaxed show with no weapons. Concert-goer players didn't have to worry about defending themselves and could just enjoy the show in peace. To All The Boys I've Loved Before actor and performer Jordan Fisher also made an appearance at the event, leading the way for influencers and celebrities to make special appearances in the future.
Recent performers on Fortnite's Party Royale mode also include DJ Steve Aoki, Dillon Francis, and deadmau5. The popular DJs performed live sets on May 8th. Jordan Fisher made an appearance again at that event. These weekly concerts are indicating Epic's new vision for Fortnite, a fun social experience that will attract gamers and collaborations with the biggest names in the music and entertainment industries that will attract non-gamers too.
A New Generation Of Fans
By the numbers, it's pretty clear that Fortnite's virtual concerts offer entirely new ways to engage fans, especially younger audiences. This new medium is where young people spend a large amount of time, and meeting them where they're comfortable is a logical move. Also, by making concerts free means they're inclusive and accessible, something that's important to younger generations. Curious about the ways you can reach younger fans? Check out our blogs on how to reach and market to Millennials and Generation Z.
As technology continues to evolve, it's going to continue advancing the possibilities and opportunities for the music and entertainment industries. For instance, learn more about how VR/AR technology is changing and how this is affecting the music industry here.
Contact us to discuss how these latest trends and technologies in the music and entertainment industries can help you maximize your fan engagement.