Snapping Up Leads with Fan-Based Sweepstakes
By launching a simple sweepstakes campaign, the Florida Gators attracted 11,000+ fans and their friends, earning thousands of new emails for their mailing list in a single month.
GOAL: Personalize Fan Experience + Attract Friends
Florida Gators fans are always hungry for relevant content and chances to engage. Wanting to feed this fan frenzy, the Gators were hunting for ways to ethically collect fan information so they could better personalize their fan experience. As a college football team, they're also always looking for ways to engage new fans and bring them into "the Swamp" to attend games. They needed a simple but powerful solution to connect with new and existing fans.
SOLUTION: Collect Fan Profiles with a Fun Sweepstakes
In mere minutes, the Florida Gators created a simple sweepstakes Campaign for fans to enter. Partnering with Wells Fargo, the Gators attracted new and existing fans alike with a chance to win tickets, airfare, and accommodations to the season opener in Dallas, Texas. Tens of thousands of fans flooded to the contest, authenticating with their Facebook accounts and confirming their information through a simple mobile-friendly form. An astounding 78% of participants in the campaign opted into their email list, indicating just how relevant the contest was for their audience. Armed with 11,000+ complete fan profiles linked to real Facebook accounts, the Gators can personalize future email and social advertising campaigns. Not only does this boost conversion and open rates, it vastly improves the "Gators journey" for fans.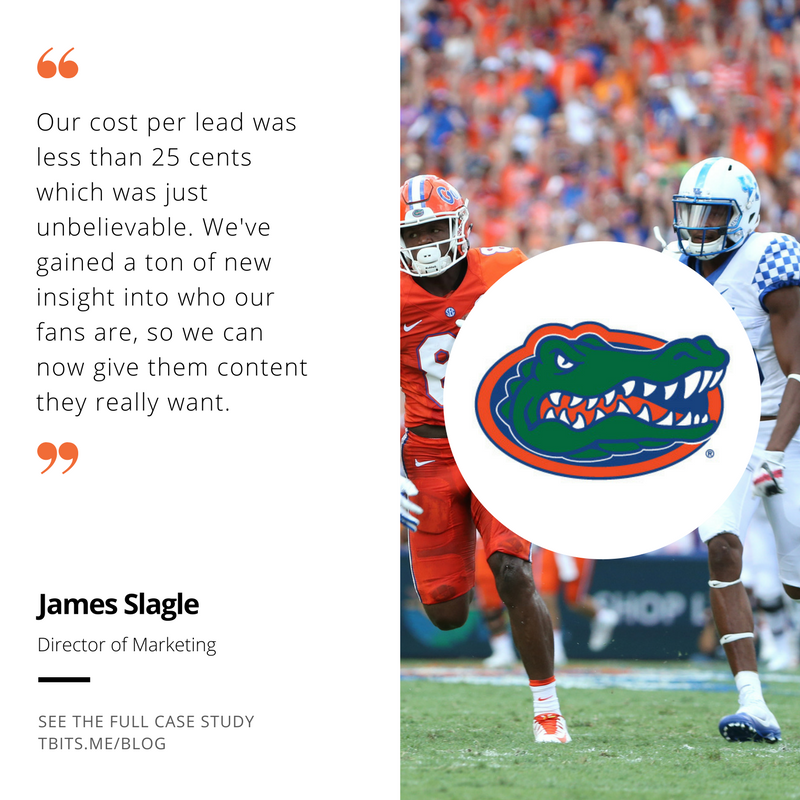 Create a fan-based sweepstakes for your fans today! Contact us for a free consultation.