T'was mere weeks before Christmas, and all through your team, there was nothing but panic - you might even scream. But before you get hung up on holiday fear... don't worry, we've got you! T-Bits is here.
To kick off the holiday season and relieve any holiday stress, we've compiled 70 last-minute campaign ideas that you can execute in a jiffy. Engage your fans or activate your partnerships with ease through Tradable Bits' interactive & easy-to-use campaigns. Using our turn-key platform, creating campaigns is as easy as:
Picking one of our templates to create a fun & data-centric campaign

Promoting your campaign with emails, organic posts, and social ads

Sitting back and enjoying a cup of eggnog or some cookies as the first-party data & sales roll in.
70 December Holiday Campaign Ideas
Let's get going! Holiday campaigns are not just a fun way to celebrate the season, but they are also beneficial from a business standpoint. When used correctly, these campaigns can enrich your database & fan profiles, create quality and segmented audiences, and help you make the most of your ad spend. Here are our holiday campaign ideas for the season:
Bundle Campaigns
Bundle Campaigns allow you to easily organize and schedule a multi-part campaign for your fans. They are optimized for mobile, fully responsive, and easy to embed on your website! An advent calendar is a great way to get your fans hyped about the holidays. The daily excitement of opening an advent calendar will keep your fans excited and engaged throughout the holiday season, all while helping you gather valuable data & insights about your fans.
1) Holiday Advent Calendar: Countdown to Christmas (giveaways or engagements for 12 or 24 days).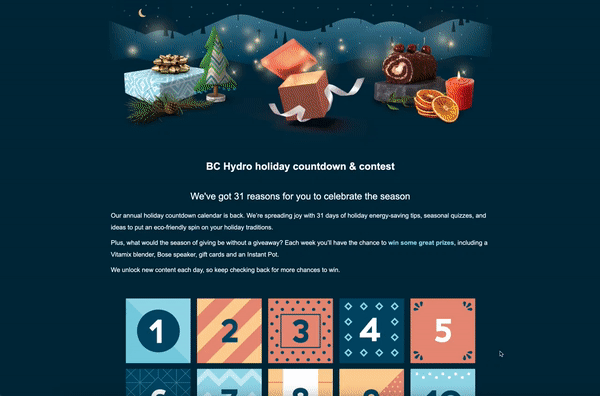 Personality Quizzes
Personality quizzes are a fantastic way to engage fans while collecting specific data about their personalized interests. They are fun to complete, super shareable, and packed with opportunities for new leads!
TBits Tip: design questions that give specific and actionable data that you can later use to segment your audience for your ads strategy - i.e. "which product best fits your style"
Here are our holiday-themed Personality Quiz ideas:
2) Which Christmas Movie is your Life Story?
3) Which Present Will Santa Give You?
4) Which Christmas Movie Villain Are You?
5) Which Reindeer is Your Spirit Animal
6) Which Gift is Perfect for Your Hard-to-Buy-For-Dad?
7) Which Classic Christmas Song Are You?
UGC
Who doesn't love some User Generated Content? The holidays are the perfect time to get your fans spreading positive buzz for your brand across their channels when they interact with your campaigns. Here are some templates and holiday-themed ideas that will be sure to tap into the holiday spirits:


Photo Contests
Photo contests are the perfect way to amass a ton of awesome fan content while involving your fans with your brand during the holiday season.
TBits Tip: Loop in your partnerships, and co-brand your photo contest campaign to give winners a branded (or high-value) prize.
Here are our holiday-themed Photo Contest ideas:
8) Ugliest Holiday Sweater Contest
9) Best Holiday-Themed Pet Costume Contest
10) Best Christmas Tree Decoration Contest
11) Winter Holidays in Your Country (International Photo Contest)
12) Best Office Holiday Decor Contest
13) Most Awkward Holiday Family Photo Contest
14) Funniest Grinch Facial Expression Contest
Video Contests
Video content continues to be the best form of consumable content. Utilize holiday hype to reach new audiences and engage your current fan base this holiday season. Simply ask fans to upload their video and sit back while the entries come rolling in!
Here are our holiday-themed Video Contest ideas:
15) Best Holiday Carol Rap Remix Contest
16) Best Holiday Carolers Video Contest
17) America's Funniest Home Videos - Holiday Style Video Contest
18) Christmas Gift Unboxing Reactions
19) Surprise Holiday Moments Video Contest


Memes
We could all do with some laughs. Let fans express their inner comedian with a meme campaign!
Here are our holiday-themed Meme ideas:
20) "Comments from my Mom" Christmas Meme
21) "New Year New Me" New Years Memes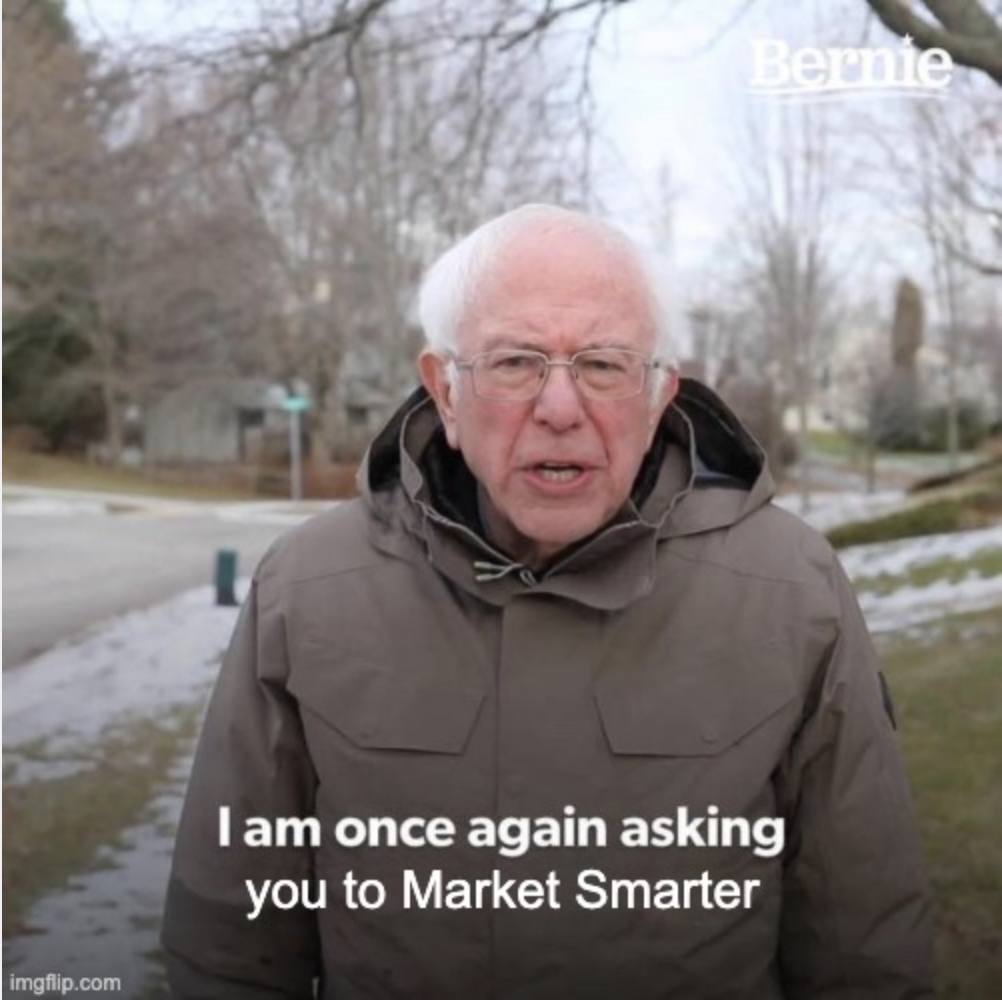 Photo Frame Contest
Let fans share their holiday cheer with a photo frame contest. Using branded stickers, fans can create the perfect holiday pic, spreading brand awareness while you collect valuable first-party data.
Here are our holiday-themed Photo Frame Contest ideas:
22) Favorite Moments of the Year Photo Frame
23) The Grinch Of The Holiday Photo Frame
24) The Classic "Merry Christmas" Photo Frame
25) The Classic "Happy New Years" Photo Frame
Stream
The holidays are a time to reminisce about the last year, while dreaming about the year to come. There's no better way to do this than to let your fans share their special moments on a single landing page for all to view! Whether you're a team taking the time to shout out your fans in an unconventional year, or an artist wanting to showcase the behind-the-scenes love - use stream to brand and house your collection of images, tweets, and messages.
Here are our holiday-themed Stream ideas:
26) Fan Moments of the Year
27) Behind the Scenes Candid Moments
Quizzes/Trivia
Quizzes are the perfect way to engage fans while assessing their knowledge on a particular topic. You can automatically tag fans based on their responses for easy audience segmentation. Plus, when fans succeed, they love to share!
Here are our holiday-themed Quiz ideas:
28) "Holiday Dinners Abroad" Quiz
29) "How Well Do You Know Your Christmas Carols?" Quiz
30) "What are the Healthiest Holiday Meals?" Quiz
31) "What Tools Would You Need to Get Santa's Job Done?" Quiz (Perfect for outdoor retail)
32) "Which of these Movie Stars were in a Christmas Movie?" Image Trivia
33) "How Well did you pay Attention to our Holiday Video?" Quiz
34) "Which of these Athletes were born in December?" Quiz
eCards
Everyone loves a holiday ecard! Let your fans decorate their own masterpiece out of your branded assets and promote awareness when they share your cards with others through emails & social media. Collect data when fans participate in the spread of that ever-sweet holiday cheer.
Here are our holiday-themed eCard ideas:
35) Holiday Greetings eCard From Your Favourite Artist
36) Pay it Forward - Share this eCard and we'll Donate x$
37) Decorate Your Own Christmas Tree eCard
38) Holiday eCards from Movie Villans
39) Caption this Awkward Family Photo eCard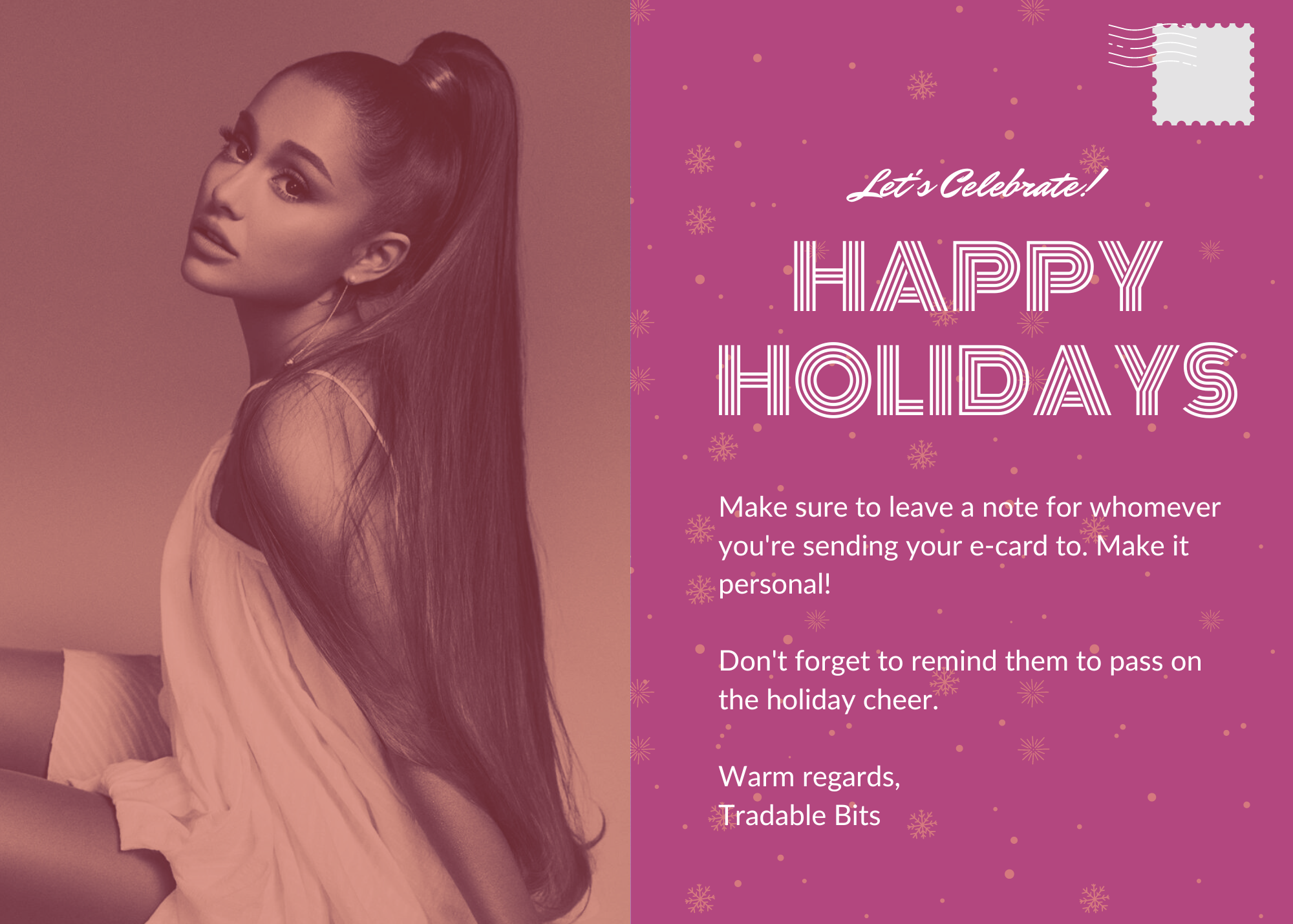 Personalized Playlist
From Mariah Carey to Michael Bublé, don't forget about all your music fans and bless them with a curated playlist that will match their holiday energy. Add value to your fans' lives using our curated Spotify playlist template and collect insights on their music taste while you're at it.
40) Fan-Personalized Christmas Playlist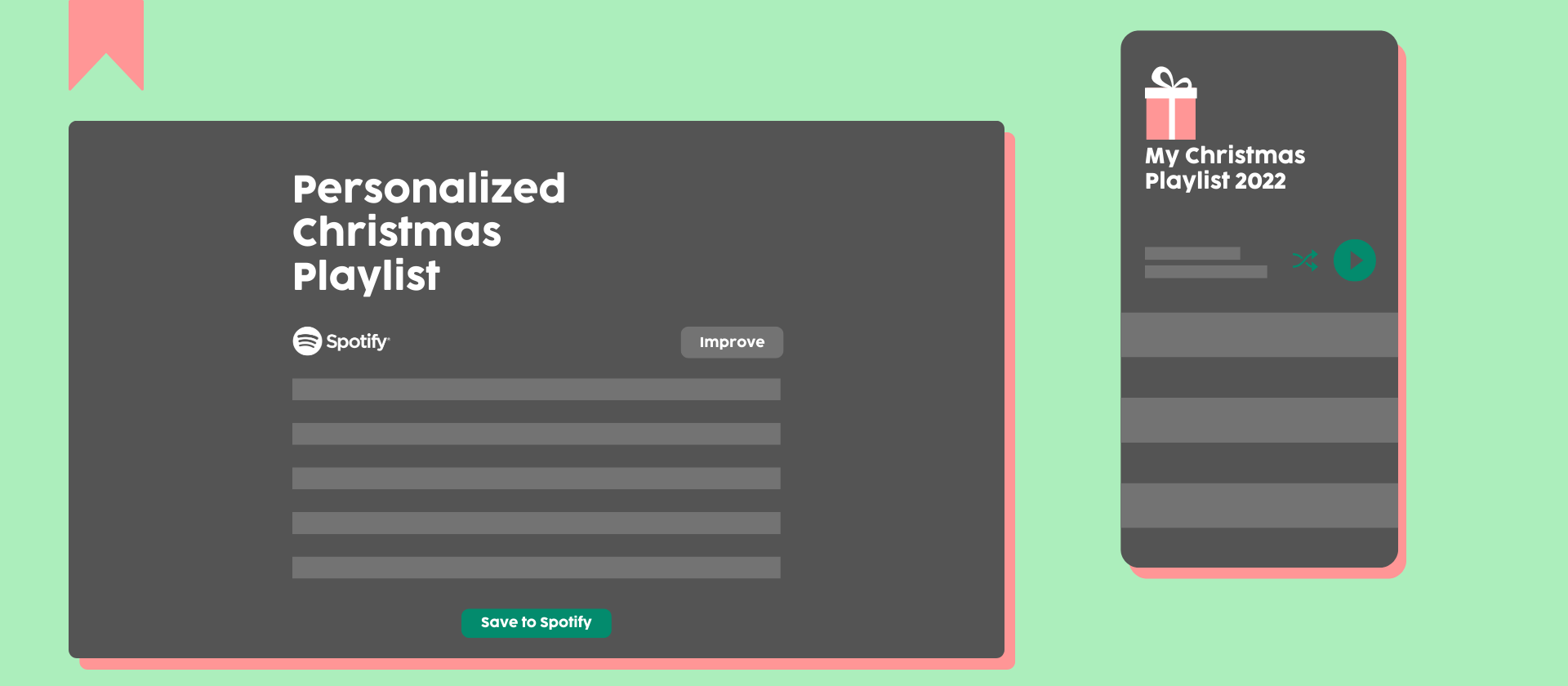 Polls
Polls are a simple yet effective way of collecting leads and segmenting them based on their answers. Get your fans' input on these campaigns, keeping them engaged and in the loop with your brand.
Here are our holiday-themed Poll ideas:
41) Which Artists Need to Make A Holiday Album
42) What's the Most Catchy Holiday Jam?
43) What's the Most Clever Place to Hide a Present?
44) What's the Best Winter Holiday Escape Destination?
45) What's the Best Holiday Beverage?
46) What's the Best Christmas Movie Moment?
47) Which Holiday Movie Should We Screen at our Theatre?
48) Santa Suit Dunking Showdown: Who Scored Best?
49) Choose Your Own Holiday Prize contest (tag fans based on their selection, send the winner their pick)
50) What's the Best Winter Sport?
51) Holiday Christmas Album Outfits: Who wore it Best?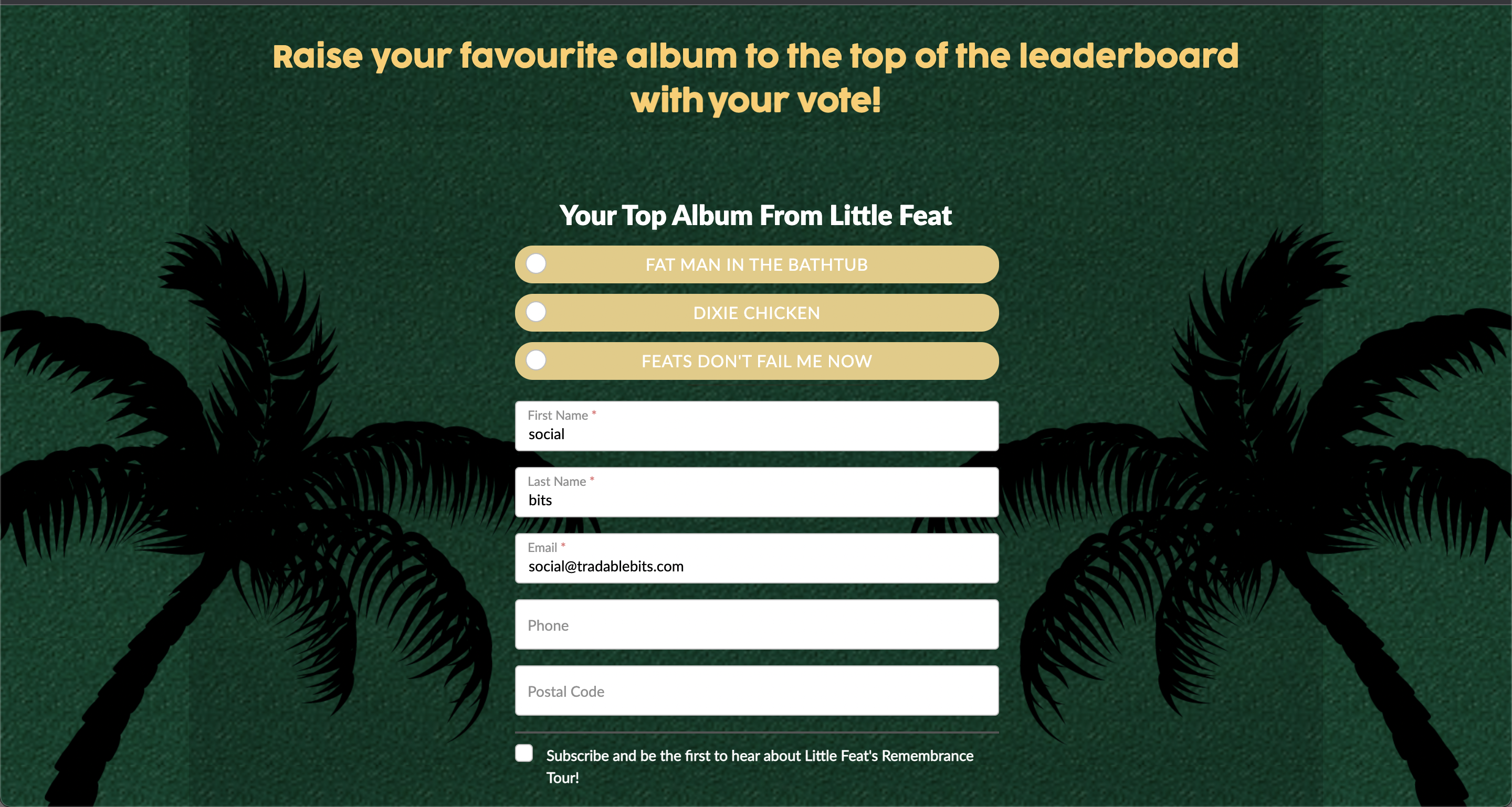 Tug of Wars
The Tug of War template is a type of poll that instills a competitive element to the campaign itself. Pit your fans against each other and encourage them to rally their fans to vote for "their side". Use Tug of War as a live in-venue activation to gain valuable insights on fans in the building, while segmenting your audience into two core camps.
Here are our holiday-themed Tug of War ideas:
52) Are You on Santa's Good List or Bad List?
53) Fake Christmas Tree vs Real Christmas Tree
54) Who Sung it Better? Holiday Carol Artist Showdown
55) What's the Ultimate Holiday Dinner?
56) Would you Rather Receive? (Bad Present Battle)
57) What's Better? Holiday Themed Merch vs Festival Tickets
Bracket Challenges
Bracket campaigns are tree-structured contests where fans can vote for their favorite option until they reach a finalist. This campaign can help you distinguish your super fans from first-timers by encouraging fans to come back again and again for each round. Collect leads every time they vote, and tag them based on their selections.
Here are our holiday-themed Bracket Challenge ideas:
58) Showtime Showdown: What's the Best Christmas Movie of All Time?
59) What's the Ultimate Toy of The Season? (Perfect for Retail)
60) Holiday Cook-Off: What's The Best Festive Dish Ever?
61) Ultimate Fighter: Christmas Villans Battle (Who Would Win in A Battle?)
62) Holiday Cook-off Pt.2: Which of These Athletes Are The Best Cooks?
63) Best Character in a Christmas Holiday Movie
64) Most Iconic Celebrity New Years Outfit?
Other Popular Templates
With 35+ turnkey templates to choose from, the possibilities are endless when you run holiday campaigns on our platform. Although we covered our most popular templates, we've gone ahead and included a couple of extra ideas from campaigns we haven't showcased.
Here are some bonus holiday-themed campaign ideas:
65) Custom AR-Filter: Create a branded face filter where fans can express their holiday joy through their channels. Loop in partners and spread that UGC.
66) Coupon: Member Exclusive Boxing Day Deal (Add value for your members with discounts)
67) Instant Win: "You get a Christmas Present, You get a Present, Everyone Gets a Christmas Present!"- Fans instantly win a prize when they participate in this campaign
68) Spin to Win: Tap into that Holiday excitement and give fans the chance to win a prize when they "Spin The Christmas Wheel" all while collecting fan data on the back end.
69) Catalog: Have your merch prepped and ready to go as fans "pre-order" their choices on the catalog campaign. Easily assign inventory based on orders and watch as your fans burst with joy when they get what they wanted.
70) Donate: What better time than to spread that giving spirit outwards. Set up a Donate Campaign and give your fans a chance to give back to charity.
We hope you've enjoyed our 70 last-minute holiday campaign ideas! 🎁
Launch your contest today! Contact us to start now.