We're diving deep into the world of Memory Match campaigns in this testament of our 1 Campaign, 3 Ways series. We'll be sharing some examples of how our partners elevated Memory Match to give you some inspiration for future campaigns.
Let's jump right in!


1. Live Fan Interactions
Houston Astros - Live Memory Match Segment

In-venue activations are key to unlocking fan engagement. With thousands of fans gawking at the big screen, it makes total sense to use this as an opportunity to drive fan engagement.
The Houston Astros created a Memory Match campaign and introduced it as an interactive fan segment. Selected fans put their skills to the test for a chance to win an Astros x Securian Financial swag bag!
Want to implement Memory Match as a live fan segment but don't know where to start?
Here's a quick checklist of what you'll need to execute this activation in your arenas:
A video board to display the game's microsite live, in-venue.
A way for fans to distinguish cards so they can choose cards out loud. We recommend numbering your cards.
A host to facilitate the game and amp up the crowd.
An operator – someone on the backend to flip over the cards when they're called.
A fan from the crowd to participate in the game!
While the Houston Astros opted for a Memory Match that targeted one lucky fan, the BC Lions transformed interactivity by involving the entire stadium in their immersive experiences.
B.C. Lions - In-Venue Memory Match with QR Code Activation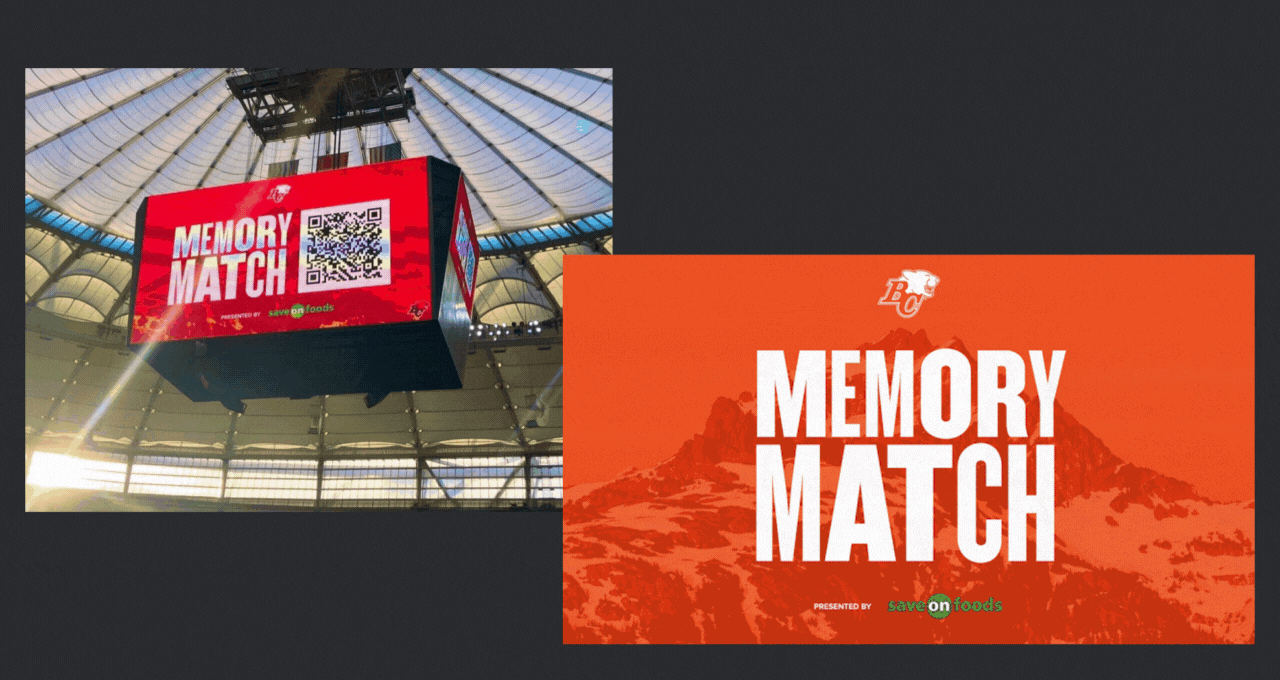 Consider popping up a QR code on the jumbotron during those intermissions and media breaks. It's a simple yet powerful way to engage fans and keep the excitement going. With a simple scan, fans are instantly part of the action.
But why stop there? Take it a step further and pre-produce videos with special guests interacting with the campaign.
The BC Lions pre-recorded a video of player Sean Whyte, playing Memory Match. This not only encouraged fans to step up to the challenge but also motivated them to beat his high score — creating a little friendly competition and an extra layer of excitement!
The result? Loads of first-party data from in-arena fans that can be used in future retargeting. An ultimate win-win situation where fans are left with a memorable experience, and teams gather valuable fan insights. Teams can also take these types of activations a step further and ask for insights about what sections fans are seated in, to have more data to compare to ticket buyers vs +1 fans.
2. Merch-focused Memory Game
Winnipeg Jets - True North Shop Memory Game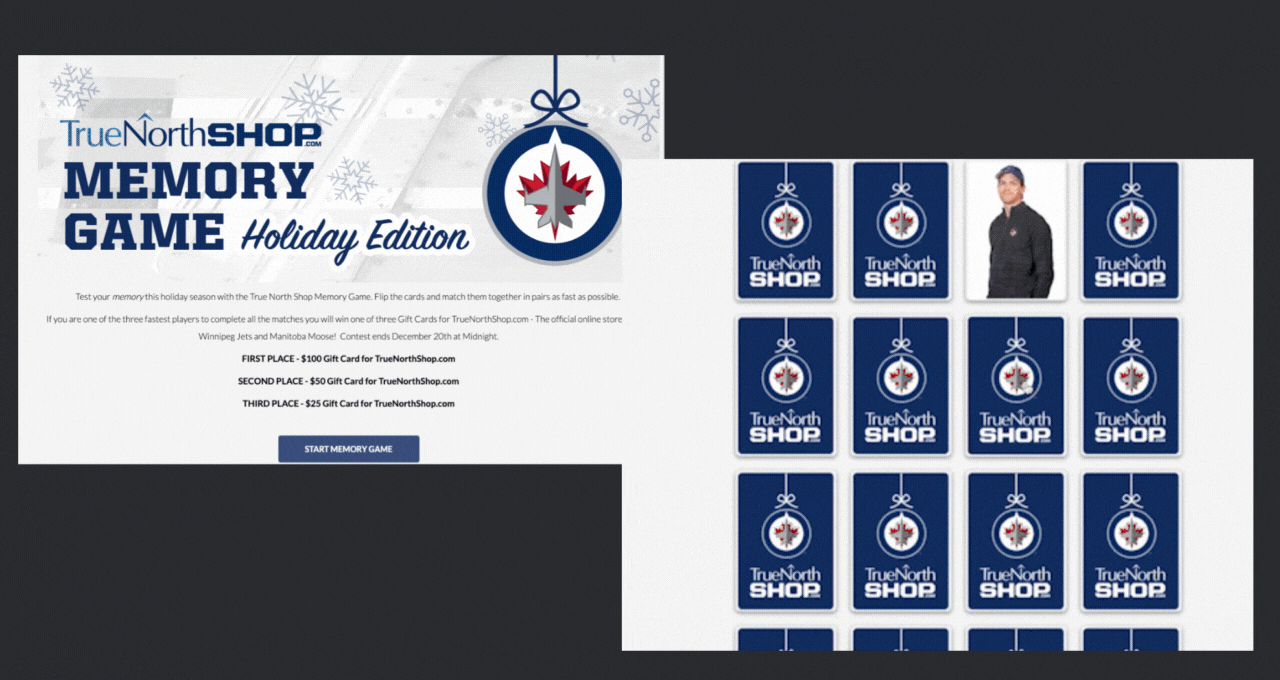 The Winnipeg Jets brought the holiday cheer with their merch-focused Memory Match game!

The Jets didn't just use the game; they took it up a notch, using it as an ultimate merchandise showcase. By playing, fans also had a shot at winning team store gift cards to score some cool Jets swag.
What we loved: The Jets hit it out of the park with fan engagement and team revenue in this campaign. By combining fan engagement, merch promotion, and enticing incentives all in one, they truly cooked up a recipe for success!
3. Out-of-the-box Campaigns
Western Bulldogs - Bont 200 Memory Match

The Western Bulldogs seized the opportunity to celebrate Marcus Bontempelli's 200th game milestone by providing fans with an engaging way to be a part of the celebration.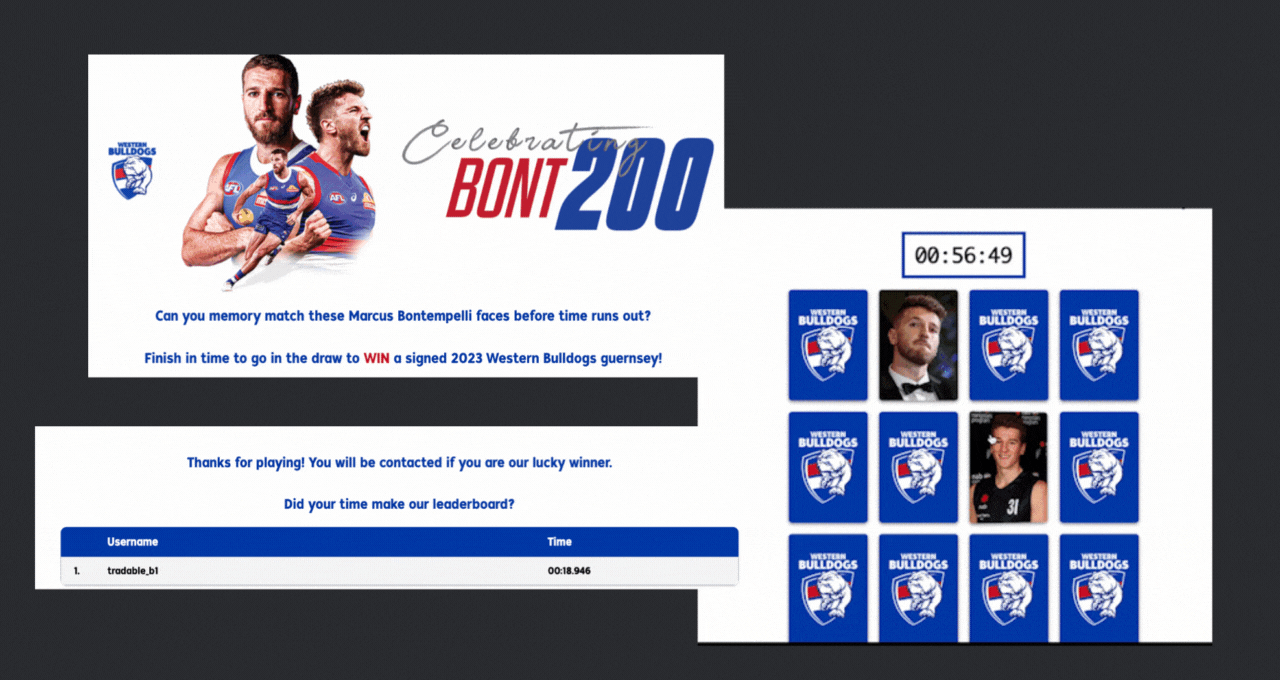 This was a great way to build deeper connections by creating memorable fan experiences that resonate even after the game ends!
What we loved: Centering the Memory Game campaign around a special player milestone helped transform the fan experience, boosting fan-team connections.
Vancouver Canucks x Heinz Memory Match

The Vancouver Canucks teamed up with Heinz to deliver a Memory Game through their Test Your Memory with Heinz campaign.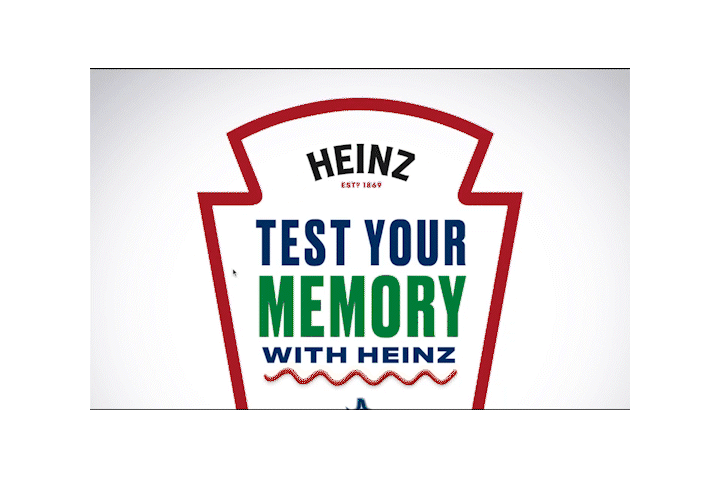 Featuring Heinz's design elements alongside the Canucks branding created a cohesive and immersive game experience for fans to enjoy.
What we loved: The seamless blend of sponsorship and team branding. And, the ultimate Canucks x Heinz prize pack incentive that intensified the thrill!
Washington Commanders Draft Pick Memory Match

The Washington Commanders used the Memory Game during the 2023 NFL Draft event.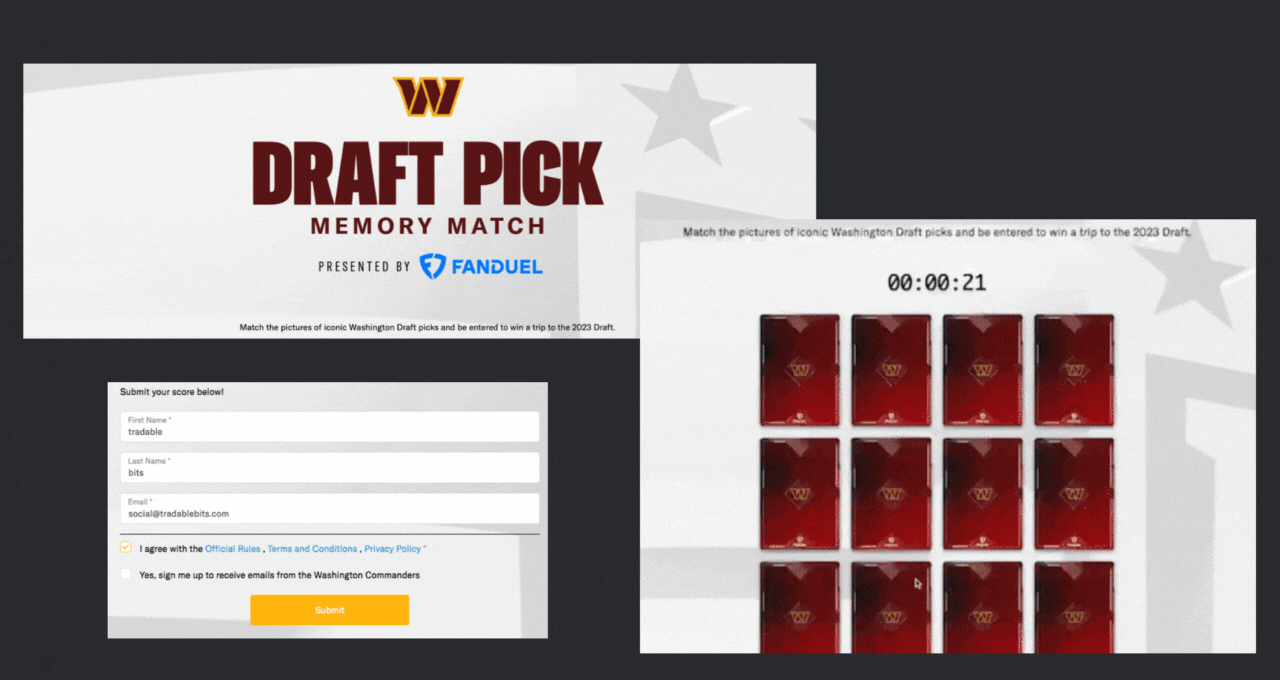 While many partners use Dream Team or Lineup for fans to "predict the pick," the Commanders stepped out of the box using Memory Match to highlight the organization's previous draft picks.
What we loved: Took a unique approach to use Memory Game as a way to build hype around their upcoming draft selection. We love that there was an amazing incentive – a chance for fans to win a trip to the draft!
Conclusion:
Memory Match is a simple yet versatile game that easily engages fans. We hope these examples inspire you to show off your creativity when building your next Memory Match campaign.
For more inspiration, you can sign up for our newsletter, or if you'd like to headstart campaign ideation with us, get in contact with our team!